It used to be true that a client would choose a photographer for an assignment based on the strength of their portfolio. The portfolio would command strong physical presence in the hands of the client, and allow the client to look in detail at the quality of the photographer's work. Today most professional photographers have a web presence and generally, websites are what prospective clients will look at first. Websites will not necessarily replace an actual portfolio or formal presentation, but they can act as a pre-selection tool to shortlist photographers that might proffer work meeting the intended brief most closely. A photographer's website must grab the attention of a visitor through the quality of images, but it must also make it easy for them to discover more about the photographer and the way they work.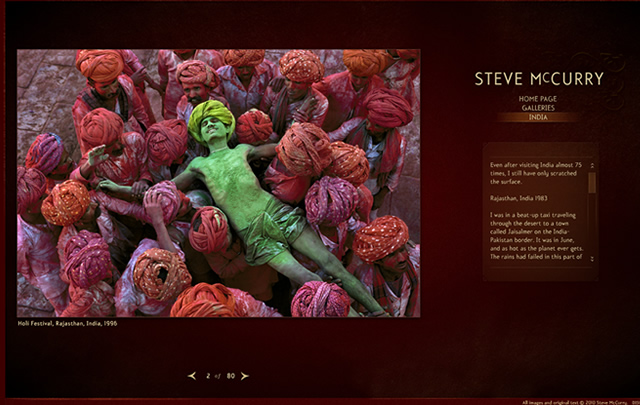 A Screenshot of Stevemccurry.com
You may want to take a look at the following related posts:
Things to Focus
Successful Websites depend on good design and follow for ease of use. Visitors must be able to glean all the necessary information within them in the most expedient manner. These are some issues worth considering when putting together an initial website outline:
Images :
Visitors will principally come for the images; everything else will be subsidiary. Images should be clearly presented and offer obvious cues as to the style and the range of subjects covered. Present a number of images on screen simultaneously, or present selected images, full screen. It is essential that visitors can examine selected images in detail and get an overview of many images.
Navigation :
Easy navigation is crucial for visitors to the site. Guests should be able to find images, search the website and find out more information by using simple button clicks. Avoid complex navigation tools-simple, user-friendly sites are best.
Personal Information :
Information about the photographer and the scope of their work should also be presented clearly. Reinforce credentials by giving details of any previous assignments, a client list (if available) or anything else that will help make a judgment for suitability easier. Include contact information – Email address, Actual, Physical addresses and Phone numbers should be available.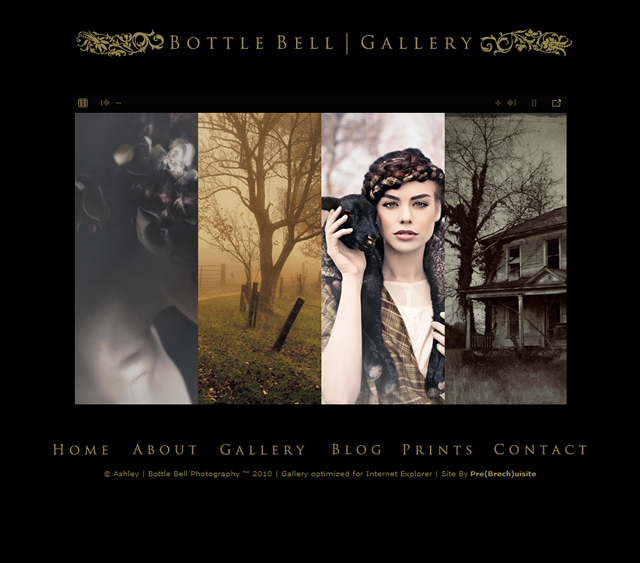 Screenshot of BottleBellPhotography.com
How to build a website?
Once you decide you need a website, it's time to decide who will build it. Here are two options:
Choose a Web Designer/ Web Designing Agency
If you have the technical know-how or the money to hire a full-time Web staff, you can develop the site yourself. But if you're like most small businesses, you'll want to outsource the work.
Be careful who you hire, though. A poorly designed Web site can cost you money, drive away customers, and hurt your reputation. Follow a few basic steps to increase your odds of hiring a creative, technically savvy, and cost-effective design firm. Below are some important points you must consider:
Assess your needs
Research their portfolios
Evaluate their services
Meet face-to-face
Check references
Thing ahead
Using WordPress for your website
The open source community designed WordPress to be a piece of software for anyone who wanted to make a website dedicated to blogging. Way back in the days of yore (about 2002–2003), there was a big push for blogging in the general Internet community. (Blog is short for Web log— a digital diary that the world would be able to read, so to speak.) Rather than setting up complicated websites with programs like Dreamweaver or FrontPage, this software would take care of making the site for you, letting you focus on telling the world about what you had for breakfast. Without knowing any code whatsoever, you could log in and write a post one day, then create another post another day. The software automatically created archives, calendars with your posts, created the ability to add comments, etc. It was like immediately downloading the exoskeleton of a house, so all you needed to do was fill it in. You didn't have to worry about how to structure the site, because it was already done for you.
You can find more information in WordPress.org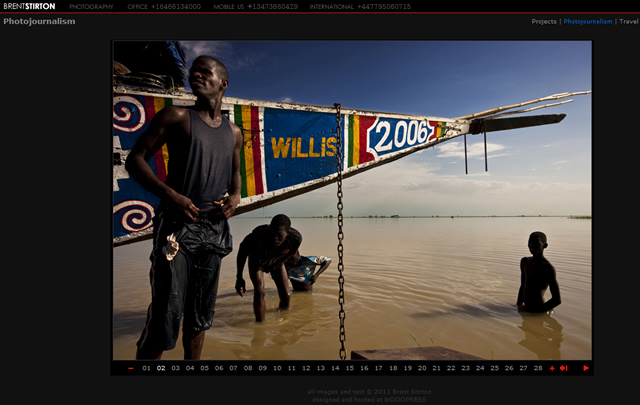 Screenshot of BrentStirton.com
Getting a URL and Hosting Space
Visitors access sites by typing in a web address in the form <www.name.com> or <www.name.co.uk>. Some photographers also use their own names or studio names. If the creation of the website is sub-contracted to an agency they may take care of this for the client. Otherwise it will be necessary to visit a site that specializes in setting up web addresses. These sites allow for the testing of different names. Try a few alternatives if the first choice is already taken, but do aim to make the name something memorable. Once a name has been chosen, the web address based on it can be purchased. Once the purchase is approved, any traffic that goes to this address will be directed to the website. This can be arranged where the address name was purchased. You can find different hosting packages available in websites, but be sure to choose a good one.
Promoting yourself and your website
Once a web address has been found and the website created, it is vital to get people visiting. It is a good idea to set the website up so that when anyone enters relevant data into a web search engine – such as the photographer's name, the studio name or even their photographic areas of expertise – the site is listed and appears as a search result.
As search engines continue to search, catalogue and cross reference web pages over the first few weeks or months, the effectiveness will increase. However, if quicker access is needed and in order to appear higher on lists in a shorter amount of time, if may be easiest to go back to the agency for more proactive help.
Apart from creating a presence on web search engines, there are also other ways to promote your work and expertise, which might include:
Straightforward advertising in the specialist press
Share links with Social Networking sites (Ex. Facebook, Twitter, Flickr, etc.)
Newsletters
Links from and to other photographic websites (reciprocal arrangements)
Submitting details to key trade directories
Promotion is a hard and sometimes lonely task but it will ultimately pay off and allow you to reap the rewards of your work.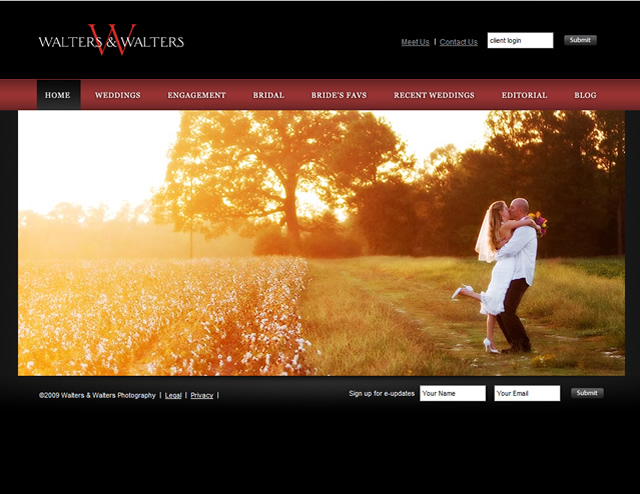 Screenshot of WaltersandWalters.com
Maintain your Website
Maintenance can be the most boring part of website design, but in order to keep your site going well and looking good, you need to do it. Testing your site as you're building it and then after it's been live for a while is important. And you should also work on content development on a regular basis. For example, update your latest project pictures in home and portfolio pages. It will be very refreshing for your regular website visitors.
Please share your points and website links in Comment Section.